What are Discount Rules & what are they good for?
Discount rules are business rules that determine discounts to be given. More specifically, most times, they determine the combination of products included and the extent of when or at what amount the discount is given. The most commonly known is probably buy 1 get 1 free.
In the attractions industry, Discount Rules can be very useful for a variety of cases:
School trips: Buy 10 student tickets and get 1 teacher ticket free.

Any kind of promotion: Buy 4 tickets and get 1 free

Family tickets: Buy 2 adults and get the chance to add children tickets for free. 


Just to name a few. There are many more cases that we hope to cover for you in the future! 
For now, let's dive into how we can set up the examples given above.
How to set up discount rules in your Control Panel

1. Navigate to Discount Rules within the Products section of your main menu to the left. 


2. Here, you can see the Discount Rules overview page. Once you have set up your first rules, you will see them here. 


3. To add your first rule, hit + Add new.


Now you see the Discount Rule setup page. Let's walk through the steps one by one.
4. Give your Discount Rule a Name.

To explain this, let's take the school trip example from above. So, we name it School trips spring.

5. Set the time frame in which this rule applies by setting effective from and Effective to.


We set this rule to run from March 01. till May 31. as a special school trip deal for the start of the season.



 6. Now, you select which category the rule applies to. The dropdown will show your setup flows.

We will select the category I want to buy Tickets → Group ticket flow.




7. Next, you need to set which and how many of X products need to be bought and which ones and how many the buyer will get for free.

Buy and Get are set by default and cannot be changed.


We now set the amount to 10 and the product to Student ticket.


And the buyer gets to 1 Teacher ticket for Free.

Here as well, Free is selected by default and cannot be changed. As we advance this feature, more rule possibilities will become available - stay tuned!


So, the resulting rule is: With every 10 student tickets, the buyer gets 1 teacher ticket for free.



If you made a mistake while setting up, hit clear to reset your selection.


Please be aware:
Adding discount rules only works for static priced products in the dated flow. 

8. Lastly, you can add a tooltip that will help buyers understand the business rules you have set up.



Make sure to add the translation in all languages!


9. Hit Save and your discount rule is saved!


Now, you can go into your Checkout and try it out.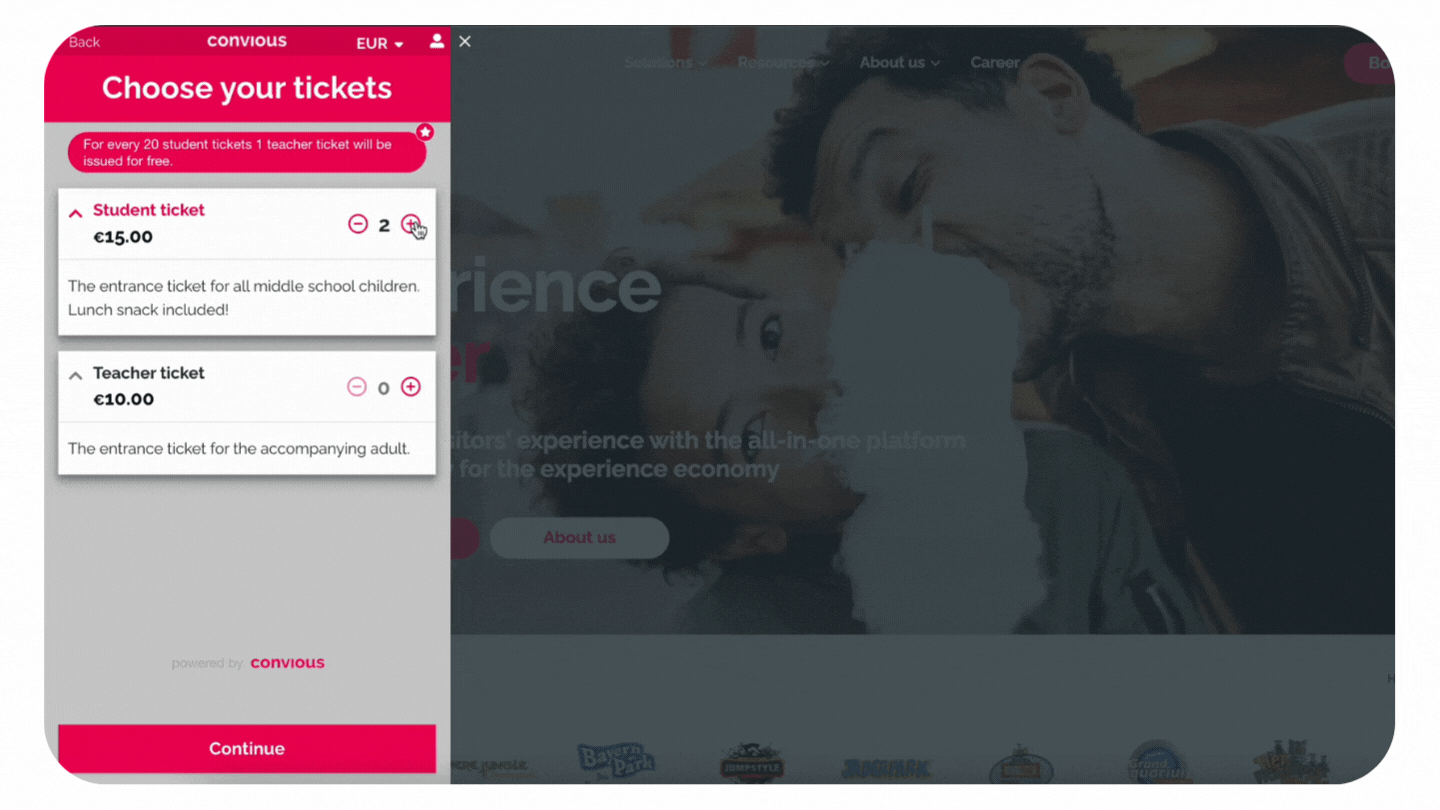 Don't forget:
Many different combinations are possible - not only group bookings! 


Adding discount rules only works for static priced products in the dated flow. 


The discount field will be disabled when discount rules are enabled.